Commercial Dumbwaiters
The Paca-Waiter
The Paca-Waiter is a versatile commercial dumbwaiter available with a net load capacity of 200, 300 or 500 pounds. Safety and convenience are the hallmark of this unit designed for multi-floor businesses. Cars are standard in painted steel and available in optional stainless steel. Either bi parting or slide up gates are required. Commercial hoistway doors are available to complete the package for safety and code compliance.
The Paca-Waiter's winding drum drive system and heavy-duty steel guide rails are designed for longevity and efficiency in commercial use. Homeowners find this dumbwaiter ideal as well when larger and heavier loads will be moved in the residence.
Applications
Commercial dumbwaiters are ideal for restaurants, retail stores, medical facilities, offices, financial institutions, government buildings, libraries, warehouses and all types of manufacturing facilities.
Residential Dumbwaiters
The Cable-Waiter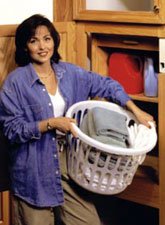 Available in wood, steel, and stainless steel dumbwaiters, this unit powers up and down a robust 50 to 300 lbs net load. A roll top gate and shelf are standard on the wood car version (CRT). Metal cars offer steel shelves and a bi-parting gate. Safety is assured with standard slack cable monitoring device, car safeties, top final limit switches, and UL® /CUL® certified controllers.
The Cable-Waiter is a residential dumbwaiter that excels at transporting everything from delicate crystal to laundry and groceries. This versatile performer is also right at home in light-duty non-residential use. It can be just right for small offices and medical clinics for record and supply movement. Custom car sizes (metal cars only) allow Colorado Custom Lift Inc. to build a dumbwaiter to meet your specific needs for form and function.